designing for the future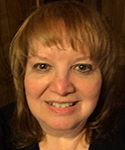 Over 30 years ago, Pamela Fisher began PGF Type & Design as a freelance business for print graphics. She later changed the business name to PGF Designs to more represent her different business offerings. Through the years she has worked at some of the largest design and marketing firms in Sevier County as well as heading art departments for corporations. Even during those times, she kept PGF Designs alive in the background working nights and weekends to deliver her customers the quality design work they had come to expect.
Now with her business's strong association with Jmayes Enterprises, she is able to not only focus more on PGF Designs but also offer  digital signage and web services along the print materials she has always excelled at.